UU Class Conversations educates Unitarian Universalists about class awareness and inclusion – empowering our religious movement to dismantle classism within our congregations and communities.
---
Being a Social Class Ally for Social Justice
More than 250 UUA General Assembly participants joined facilitators Rev. Kimberly Johnson, Denise Moorehead, Diane Pansire and Rev. Megan Visser to explore how class and classism, intersecting with race and racism, have shaped our lives from childhood. Together, we looked also at the impact that acknowledging and even celebrating class differences can have on our congregations and organizations, and on our work for social justice and equity. Using this information, we created sacred space to discover how we can become class/race allies. Then we discussed strategies for moving beyond allyship to become accomplices, people who stand alongside their peers with less class advantage to create a more just faith community – and world. 


---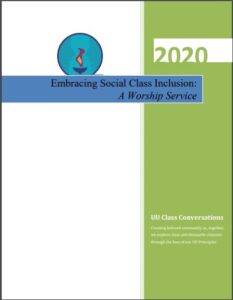 From UU Class Conversations: A worship service packet, Embracing Social Class Inclusion. The worship service is an important way to introduce the power of class inclusion to your entire congregation and help members understand that this is indeed sacred work.