You are invited to tell the story of your class journey – your family's class when you were born, where you were at age 10-12, where you are now, and how you feel about the changes.
Why share your class story?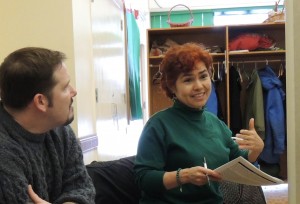 More than a few people have described Unitarian Universalism as a middle- or upper-middle class religion. Those of us from other class backgrounds have long known this does not fully describe who we are. Many others have realized that for UUism to fulfill its potential it cannot be limited by class.
In the past year as we have field-tested our workshops, we have grown increasingly aware of how diverse our congregations and organizations are. In the workshop setting participants have a chance to share part of their class stories, and although there are common threads, each story is unique.
Sharing class stories is an important way for us to understand the diversity of class experiences within Unitarian Universalism.
How do I write my class story? What do I include?
One way to tell your story is to imagine you are talking with a friend. You can go into depth or just tell a few highlights. You can give an example or two about how class has affected you at different times of your life. You can tell where you began class-wise, how your class changed during your life, and where you see yourself now—and how these changes make you feel.
Or, you can write in briefer form, using headings to identify different aspects of who you are. You don't even need to use complete sentences.
THE TECHNICAL STUFF: Post your class story in the comments section below. Before long you will see it posted on the page. Thanks for sharing. You can also send us your video class story at info@classconversations.org
---
Rev. Stephen Shick, UU Class Conversations Advisory Board member, created the vlog, Class Everlasting, which tells the class story of two women and illustrates the damaging effects of classism within a congregation and the lasting effect that it can have. See the video below.
Video Class Story: