ICE, Refugees and Justice
Give me your tired, your poor, your huddled masses yearning to breathe free, The wretched refuse of your teeming shore. Send these, the homeless, tempest-tossed to me, I lift my lamp beside the golden door!
Emma Lazurus, 1883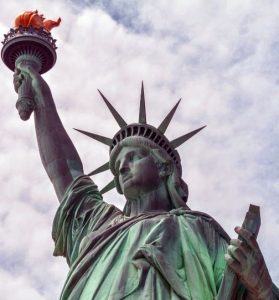 A refugee by definition is a person who has been forced to leave their country in order to escape war, persecution or natural disaster. These are typically people with no homes, no money, no tangible evidence of their past life, because they had to move often without any advanced warning for their survival. These are people who despite their former social class advantage are left with very little.
There are 26.4 million of these people in the world right now. According to Amnesty International, all refugees have the right to receive assistance, the right to protection from abuse and the freedom to seek asylum, regardless of who they are or where they come from. What does the United States have in order to help refugees? Well, one of the most notable and feared agencies is the U.S. Immigration and Customs Enforcement, famously known as ICE. ICE has one thing they are especially good at doing; sending many refugees back home. These refugees get sent back because they don't have proper documentation, money or identification. Things I would assume that a refugee would have trouble attaining just based on the definition of a refugee.
We have to protect the values of our United States, the values our founding fathers used to create the constitution. The values that throughout United States history were exemplified by hope, refuge and new beginnings. For we are truly the land of second chances. The Statue of Liberty offers a beacon of hope to those around the world that the United States is the home of freedom and liberty. ICE contradicts these values. ICE. isn't patriotic. The agency seems to be interested in preventing some people from getting to experience these patriotic values.
I have a question for each of you. Are your family members or ancestors immigrants? If so, they likely moved to the United States for freedom and hope or whatever reason that was important to them. Aren't you glad that they did that so you can have the life you have? Aren't you glad that the family your ancestors started is here? Aren't you proud of your heritage, whatever it may be? So why do we want to restrict other people from doing the same? Do we not want to give them the chance to build a family and a life, just like yours did?
This past summer Afghanistan fell to the Taliban. Now, there are more than five million Afghan refugees, many of which are trying to flee to the United States for safety. The U.S. response has been to send most of these refugees to holding centers or other places outside of the United States. They denied these people safety. Will they do the same to Ukrainians fleeing the war?
I work in a restaurant and many of the Immigrants I work with are afraid. One of my friends is constantly afraid of getting deported to Mexico, even though he is legally here and not even from Mexico. My friend works every day to support his family. He is 17 and goes to high school and has two jobs. He is the father figure to his younger brothers and he supports his mom financially. Why would ICE deport him, an honest kid just trying to give a better life to his mother and brothers? Why does he live in fear when he has not done anything wrong?
When I read about these people, they aren't just statistics but mothers, fathers and my friends who are scared, scared for their future and their children's future. They are not wealthy or influential, but they work hard and are decent and honest people just trying to live.
"Refugee Admissions – United States Department of State." U.S. Department of State, U.S. Department of State, 8 Oct. 2021, www.state.gov/refugee-admissions/.