Home » Posts tagged 'social class'
Tag Archives:
social class
September 11, 2023 / Leave a comment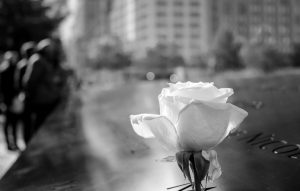 As we remember the terrible devastation, sorrow and inhumanity those many years ago on 9/11, let's also remember how people and institutions came together around the world to support one another on that day and since. Let's remember also how our own Unitarian Universalist organizations, the UU Service Committee and UU Association, together raised funds from members/congregants across the country to support the families and loved ones of 9/11 victims who would not receive support from "traditional" charities.
Undocumented workers' families were ineligible for support from the government and many charities – even when the victims were the sole support of the family. Because of their status, undocumented workers had toiled in the shadows of the Twin Towers in obscurity, and families had no proof that the worker had held a job. Additionally, the families lacked the class advantage that could open doors to their new country's legal system.
In 2001, legal marriage was not yet available for lgbtq+ individuals. Without a marriage license, the partners of 9/11 victims and their children were often ineligible for support from most organizations. The UU Service Committee worked with immigrant rights and lgbtq+ groups on the ground in New York City, Washington, D.C. and Pennsylvania to make sure that classism and other forms of bias could not keep families from receiving the help and support they needed.
Additionally, UUSC continued to support those affected by the tragedy. For example, it funded clinics addressing the rise in respiratory illnesses in communities of color that were in the direct path of the massive dust clouds that filled the air following the towers' collapse. And, of course, individual UU congregations and groups were on the front lines to support 9/11 survivors and families in the immediate aftermath and beyond.
So, as we remember the events of 9/11, let us remember also to continue the fight against classism and bias. And, as UUs, let us continue to press for lgbtq+, BIPOC and immigrant rights – all under attack from organized internal forces. Remember everyone!
Latest Blog Posts
September

2023

Sun
Mon
Tue
Wed
Thu
Fri
Sat