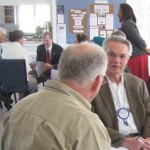 The Unitarian Universalist Funding Program provided the initial Fund for Unitarian Universalism grant that supported UU Class Conversation's first year of work. A matching grant for 2014-2015 is allowing us expand our outreach to UU congregations and organization seeking to be more welcoming and effective in building a strong, class-inclusive faith community.
First Parish Framingham Unitarian Universalist  is the sponsoring organization for Class Conversations.
We have partnered with the national nonprofit Class Action to create a rich, interactive experience for workshop participants and online and other resources on class and classism. Class Action also offers interactive trainings as well as workshops, presentations, organizational consulting, and public education.