Home » Posts tagged 'owning class'
Tag Archives:
owning class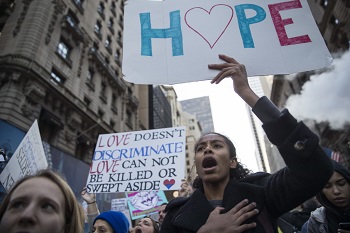 by Betsy Leondar-Wright
The election outcome was a shock – but wasn't something new. Throughout U.S. history we've had waves of right-wing populism, when people bought into explanations of their economic hardships that scapegoat other marginalized groups and reject traditional elites. This election was a right-wing populist upsurge that few of us saw coming. We underestimated the number of voters willing to accept racism, sexism, Islamophobia and immigrant-bashing in a candidate.
But we also saw a surge of progressive populism – the kind that criticizes economic systems and the rich – in the strong showing for Bernie Sanders' campaign and the popularity of Senator Elizabeth Warren. And that can be our source of hope now, that the progressive populists could organize social movements and take over the Democratic Party.
Progressive Populism
The mainstream Democratic Party used to have more progressive populism in its platform, its rhetoric and its political actions, from the 1930s through the '70s. But I'm one of many leftists who started criticizing the party in the '90s for its turn to the right, for ignoring working class and poor people harmed by de-industrialization and making trade deals like NAFTA and the TPP. In particular, the national Democrats ignored white working class men, the only race/class/gender cluster who actually has lower income today than their fathers and grandfathers.
Democratic leaders didn't treat falling wages and unemployment as true crises. After the crash they accepted the bailout of "too big to fail" banks and they didn't push enough for a bailout for foreclosed homeowners. Gradually over the last 30 years the Democratic Party began to get more of its campaign funding from Wall Street, big corporations and wealthy individuals, and began to operate under the delusion that a coalition of well-off coastal liberals and urban people of color could swing national elections – which clearly isn't always true. They took union support for granted, not realizing that the rank-and-file don't necessarily vote with the leaders.
"We need to reach out and build personal and political ties with those Trump voters who aren't committed haters, but whose economic woes and worries we can empathize with. Our first UU principle about the inherent worth and dignity of every person is hardest to put into practice with people we have profound disagreements with.″
Many Democratic leaders also fell into the cultural classism that some of us coastal liberals fall into, of regarding the Midwest as a flyover zone full of gun owners or Christian fundamentalists who are too stupid to have a reasoned political conversation with. It's important to remember that Donald Trump won the majority of votes from college-educated and high-income whites as well, so we need to be on the alert for classist demonizing of white working class people. This is a white right-wing populist uprising that cuts across classes.
Those of us who didn't see this coming need to ask ourselves whose voices we hear on a regular basis, why more of the voices of the disaffected rural and Rust Belt white people weren't on our radio programs, in our newspapers, on our Facebook feeds – and in our personal circles. We didn't hear them.
We need to stop huddling in our liberal echo chamber talking about how "they" got it wrong and we are right about everything.
Reach Out, Build Ties of Solidarity
"It will take a mass progressive movement to turn our country in a healthier direction."
Instead we need to reach out and build ties of solidarity, both personally and politically: ties with people already being targeted by street harassment from emboldened bullies who are spray-painting racist slurs and yanking off head scarves; ties with those likely to be politically targeted for deportation and stripped of union rights, health coverage, abortion rights, religious freedom and affirmative action.
But we also need to reach out and build personal and political ties with those Trump voters who aren't committed haters, but whose economic woes and worries we can empathize with. Our first UU principle about the inherent worth and dignity of every person is hardest to put into practice with people we have profound disagreements with. We may need to put aside disagreements over gun ownership and find common ground in preventing Wall Street and multinational corporations from taking over our democracy and our economy.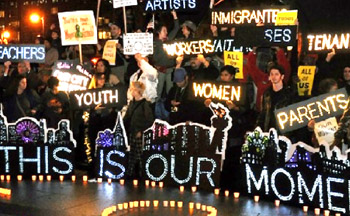 It will take a mass progressive movement to turn our country in a healthier direction. Only a multiracial and cross-class mass movement can limit how much damage the Republican Senate, House and President can do in these coming years. A mass movement could light a fire under the Democratic Party to nominate progressive populists like Bernie Sanders and Senator Elizabeth Warren.
We need a responsive party that is loudly pro-labor, that pushes for full employment policy, that will be firmly anti-sexist and anti-racist, that will tell the truth about how crucial immigrants are to economic growth, and that will treat income inequality as a national crisis. The movement and the party I'm imagining would put forward a progressive populist message that will make sense to economically struggling people of all races and regions.
It's too early know what effective resistance will be organized to stop the rightward lurch of our country, but when it happens, when you get invitations to join organizations, to boycott, to go to protests and to speak up, please say yes. All of us will need to say yes, say yes, and say yes again.
---
Betsy Leondar-Wright spoke these words on a panel about race, class and gender in the presidential election, at First Parish UU Church of Arlington, MA on November 13. She is on the board of Class Action (www.classism.org) and on the steering committee of UU Class Conversations (www.uuclassconversations.org ).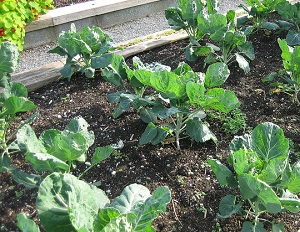 By Bethany Ramirez
If all politics are local, there is currently a dust up about renovations to the park across the street from me. Plans include the removal of a tree that interferes with the community garden area. But the renovations were halted before they began because of a movement to save the tree.
And recently there have been some members of the community (certainly not most) who have made dismissive comments about the community garden in a way that makes me want to unpack some classism.
When Your Justice Collides with Ours
When we first came to look at this apartment, we were quite excited to discover that the community gardens were so close. We were even more excited to learn that there was already a fenced-in garden space in our yard, so we did not need to worry about the waiting list for a community plot. It had not been used for several years, so we invested a lot of time and money into cleaning out concrete and patching the fence.
However, our garden is struggling. Since the garden was last used, one of the trees has grown to cast shade over most of the space. And since the landlord does not want tenants wasting water, there is no water hooked up to the hose – a  problem when we are approaching drought conditions.
In order for us to garden next year, either the landlord has to fix both of these problems, or we will have to use the community garden across the street. We rent. We cannot just move the garden location to somewhere else in our yard. Many neighbors don't have space to garden at all. This is what community gardens are for. In fact, we are sharing our garden with friends from the next town who are on a waiting list for a community garden where it could take them years to get a plot.
There are class issues in the dismissive comments people have made about the community gardens. There are class issues in being able to afford to garden at all in the first place. And there are class issues in claiming a tree is more important than community gardens that have nowhere else to go. We talk a lot about how the poor can't afford fresh produce, and we're not letting them grow their own, either.
---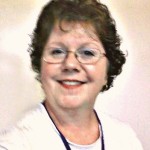 by Nancy Hilliard, M.Ed
When I learned about the latest indignity aimed at people living in persistent poverty, I had to ask myself, How did we dehumanize people living in poverty so thoroughly?
According to the National Coalition for the Homeless, well over 30 municipalities have restricted or banned sharing food with homeless people across the USA. Learning about this horror made me think about how (increasingly) rare it is for people from different class groups – and even with different class backgrounds – to interact. It becomes easy to view someone as "the other" when you see them only from afar – if you see them at all.
This thought brought back memories of one summer, during the mid-80s, when I saw how the myth of "other" began to crumble ever so slightly for one young man.
Creating Change
I worked on a grassroots campaign to pass a Consumer Utility Bill (CUB), which would have allowed consumers to contribute $1 to hire an expert to rebut Utility Company testimony during rate hike hearings. No one had organized Chelsea, home of the House Ways and Means Committee Chairman, Richie Voke. Ever.
Chelsea was the poorest city in Greater Boston, and one of the poorest in the state. It was expected that my crew would last a couple of hours, at most. But with youthful optimism and energy, I gathered all the multilingual canvassers who would accept my invitation, and off we went. Our assignment was to gather handwritten letters to deliver to Rep. Voke, as well as contributions of any amount (wink, wink).
As that one evening stretched into the second week, a young man in preppie attire balked at joining the crew. "Of course, it is easy for you. You're working class." Ummm.
Not exactly. I explained that I had grown up in a well-to-do suburb of Boston. Once upon a time, it was known as "one of the three Ws for wealth: Winchester, Weston, and Wellesley." Moreover, I had graduated with honors from Harvard-Radcliffe College just a few years before, albeit on scholarship.
Well, perhaps he could give it a try, even though he was coming from an upper class family on the North Shore. He grudgingly came with us to Chelsea.
Opening a Window
Given his misgivings, we agreed to a check-in within the first hour. Turning the corner toward the designated meeting spot, I wondered what I would find. Up ahead, the young man stood quietly, as if trying to avoid attention. As he slid into the passenger seat, he was beaming. He waved a letter in his hand, and exclaimed, "You were right, Nancy. Working class people are just like us!" I did bite my tongue. His sincere amazement caught my breath.
This young man joined us for a second evening, and his enthusiasm contributed greatly to our campaign. All told, we visited Chelsea for two weeks, gathered 50 letters, over 250 signatures, and many memberships. It turns out that Chelsea is a city with many different neighborhoods, and socioeconomic classes. We even received a $50 contribution (well before the gentrification and condos of the new millennium).
Richie Voke responded immediately, rescuing the CUB and setting it up for passage. Unfortunately, in October that year, the U.S. Supreme Court struck down a similar provision, disallowing consumers to piggy-back communication in the utility statement envelopes. Alas. The campaign was successful in so many ways, for all of us.
Widening the Circle
Perhaps my own openness to all classes developed from the economic reality of my childhood in Winchester. Recently, my mother informed me that we would have had more money if she, as a widow with two small children, had applied for welfare. Instead, my grandparents assisted with budgeting (not actual funds) and my experience of socioeconomic realities was fluid and not particularly painful. I worked from the age of nine, but then so did many babysitters.
Whatever our response to the challenges of class discrimination, we cannot leave our cross-cultural encounters to chance. Class conversations are one way to begin deliberate steps toward widening our Circle of We, and ending classism.