UU Class Conversations Coordinator – Job Posting
Our volunteer Steering Committee is seeking to hire a paid Coordinator who will work 20-25 hours per month ($25/hour) and focus on the priorities below. This is a 9-month stipended position with an option for renewal, beginning in September 2019 or later, depending on when the position is filled. We will begin reviewing applications on August 1, 2019.
Workshop Coordination

Marketing
Administration
WORKSHOP AND OUTREACH COORDINATION (20 hours per month)
Publicizes workshops and other primary UU-CC educational activities through direct marketing strategies over a variety of mediums. Answers questions about space, lodging or equipment needs for workshops. Communicates a clear payment schedule for a specific workshop, including payment of travel costs and any other expenses incurred. Oversees webinar "broadcasting" and payment systems.
Responds to inquiries about UU Class Conversations workshops, consultation and webinars. Provides logistical information to interested groups. Schedules the above and connects groups with UU-CC facilitators once a date is set.
Maintains clear, up-to-date records and documentation on workshop (and other activities like webinars) arrangements, to be shared with facilitators and Steering Committee members as needed.
Creates and distributes marketing materials
Oversees social media strategy and execution for UU-CC.
ADMINISTRATION (5 hours per month)
Participates in monthly meetings of the Steering Committee
Assists to determine Steering Committee meeting agendas and catalogues long-range planning ideas
Please submit a resume, cover letter, and contact information (phone and email) for three references to info@uuclassconversations.org by July 31, 2019.
---
---
 Exploring Class and Classism
UU Class Conversation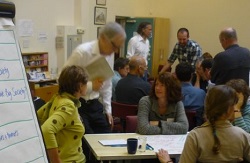 s provides Unitarian Universalist congregations and organizations with the tools and language to explore class and classism through a distinctly UU lens.
Building upon our faith community's ongoing diversity work – from race to gender to sexual orientation to gender identity – the project aims to produce more welcoming congregations while strengthening our shared commitment to social justice.
Download the Why Talk about Class Flyer for more on our project.