"There is no history without African-American history …"                               
Sarah Clarke Kaplan, the executive director of the Antiracist Research and Policy Center at American University sums up a salient point in the celebration of Black History month. The ongoing perception of some Americans that certain Americans are more American than others and that the stain of slavery is only the shame of those of African decent, perpetuates the ignorance that is still shaping the laws of our country.
As the politicized debate rages on about whether or not there is value in teaching students all of our history, we as Americans can embrace the idea that the history of any racial or ethnic group should not be relegated to 3 or 4 weeks each year. It is incumbent on all of us to introduce ourselves and our youth to the diversity in American literature, art, music and widen our own definitions of what is Americana.
Due to COVID restrictions, most museums offer virtual tours. Why not visit the Schomburg Center for Research in Black Culture here or review some art at the Smithsonian Museum of African Art here, or research what is available in your local town or city? Become an active participant in learning about what makes our country so unique, and celebrate it by submerging yourself in all the differences that make this country a true melting pot of cultures. If not for us, the average citizens, and our storytelling traditions, much of our rich and diverse history could have already been lost.
History has a way of repeating itself, and if we the people allow alternative facts to reshape the history of our country, we will allow our history to be whitewashed and erased. It has happened before; the quaint pictures of Native people sharing a feast with Pilgrims and the smiling faces of slaves singing spirituals while picking cotton would be laughable if not for their blatantly shameful attempt at historical propaganda.
The importance of preserving and celebrating our ethic and cultural uniqueness and value is tantamount to protecting the social justice and rights of all Americans and our civil liberties.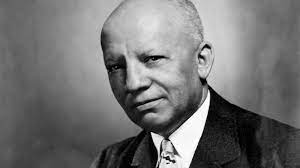 Dr. Carter Woodson, a noted historian, author and journalist and the founder the Association for the Study of African American Life and History, advocated for the national acknowledgment and celebration of the contributions American Blacks made to American history. He launched Negro History Week in 1926.
He chose the second week in February, since it commemorates both Abraham Lincoln's and Fredrick Douglas' birthdays, two men integral in the emancipation of African Americans.
The 2022 Theme of Black History month has been Black Heath and Wellness.
Fifty years after the inaugural event, President Ford officially recognized the week in 1976. It became a nationally celebrated month in 1986, coinciding with the recognition of Martin Luther King Day in January. Learn more about Dr. Woodson and the continued work of the Association for the Study of African American Life and History.