Home » Unitarian Universalism
Category Archives:
Unitarian Universalism
Picture a newcomer in the vestibule of your congregation next Sunday morning. Her clothes are faded, neckline stretched, hair in need of a wash and pulled back in a hasty ponytail. Dragging her hand hither and yon is a six-year-old, jeans ragged at the hems, sneakers that have seen better days, flyaway hair. She's bubbly, bouncing on the balls of her feet, grinning at everyone, laughing uninhibitedly, excited to go to Religious Education classes and make new friends.
You help them find the other first graders, and her daughter bounces off without a qualm. As you're walking this newcomer back to the sanctuary, she gestures out the window. "Is it okay if I leave my car there?" You note the blankets hung inside to cover the windows in the back seat and trunk of the wood-paneled station wagon. "It has everything we own in it right now. We've been sleeping in the car or in our tent for a few days. I left my husband down in Tennessee," she explains blandly. "He was abusive."
Now imagine our newcomer, on a second or third visit, signing her daughter up for Religious Education. When it comes to the registration fee, does the DRE say brightly, "That's okay, you can volunteer in the program instead!"
Maybe our newcomer would love to share with the Neighboring Faiths class about her childhood as a Jehovah's Witness, or is a licensed childcare provider excited to volunteer in the nursery. But what if she doesn't have a skill the congregation needs? What if her car dies? What if she is able to find a minimum wage job and a coworker asks her to cover a Sunday morning shift that would pay for new sneakers for her child? What if she's just too physically, mentally and spiritually exhausted by Sunday to do anything but listen from the pews? Is there still a place for her daughter in RE?
---
When UU World asked me if there were "something on my heart" that I would like to put into words for a guest blog post, I sat up straight and said, Yes! The response of my faith community to "Towards a More Inclusive Stewardship" has been gratifying and redemptive, but with an undertone of frustration.
Before my best friend received that stewardship letter (referred to in the UU World article), the fellowship we had grown up in found itself in financial trouble. And yet, my best friend was in crisis: disabled, a single mother, domestic violence survivor, scraping by on public assistance. How could she be expected to contribute volunteer hours equivalent to what her membership cost the church when she couldn't afford the gas to drive there … and then her van died. All of these barriers were exactly why she needed the support of her faith community, and it was at this same moment, despite the stewardship committee's best intentions, that she got the message that she was no longer wanted by her childhood fellowship.
By contrast, the happiest I've ever seen my best friend as a mother was the brief few years when the Mormon community lifted her up both spiritually and materially, although ideologically she was always a square peg in that round hole. These are the moments that churches are made for—"inasmuch as ye have done it unto one of the least of these my brethren"—and we failed.
Why do we measure a member's inherent worth and dignity by what they have to give us as a congregation? I want mine to be a congregation that helps this mother find a place to live and an appropriate means of support, that embraces her daughter in the RE program, that includes them both in the monthly potluck, without asking for anything in return. The irony is that those to whom we give without asking, when eventually they are able to give back, will often prove our most generous, loyal supporters.
I want mine to be the stewardship committee who stands before the congregation and says, "We are a community that gives without reckoning, a tide that lifts all boats regardless of their size, shape or value. Today, if your loch, reservoir or rain barrel is full enough, we invite you to pour back into our safe harbor any bounty you can spare."
---
Maryah Converse was raised Unitarian Universalist, and has been a religious education volunteer in two congregations and the Southeastern Unitarian Universalist Summer Institute (SUUSI). She was the Membership and Stewardship Associate at All Souls Unitarian Church in New York City, where she worked for four years and was an early member of the Unitarian Universalist Association of Membership Professionals (UUAMP). She teaches Arabic and English as a Second Language and blogs at bymaryah.wordpress.com.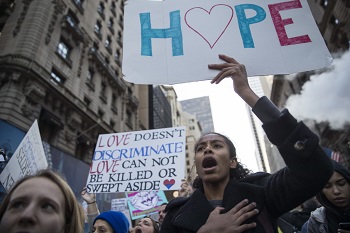 by Betsy Leondar-Wright
The election outcome was a shock – but wasn't something new. Throughout U.S. history we've had waves of right-wing populism, when people bought into explanations of their economic hardships that scapegoat other marginalized groups and reject traditional elites. This election was a right-wing populist upsurge that few of us saw coming. We underestimated the number of voters willing to accept racism, sexism, Islamophobia and immigrant-bashing in a candidate.
But we also saw a surge of progressive populism – the kind that criticizes economic systems and the rich – in the strong showing for Bernie Sanders' campaign and the popularity of Senator Elizabeth Warren. And that can be our source of hope now, that the progressive populists could organize social movements and take over the Democratic Party.
Progressive Populism
The mainstream Democratic Party used to have more progressive populism in its platform, its rhetoric and its political actions, from the 1930s through the '70s. But I'm one of many leftists who started criticizing the party in the '90s for its turn to the right, for ignoring working class and poor people harmed by de-industrialization and making trade deals like NAFTA and the TPP. In particular, the national Democrats ignored white working class men, the only race/class/gender cluster who actually has lower income today than their fathers and grandfathers.
Democratic leaders didn't treat falling wages and unemployment as true crises. After the crash they accepted the bailout of "too big to fail" banks and they didn't push enough for a bailout for foreclosed homeowners. Gradually over the last 30 years the Democratic Party began to get more of its campaign funding from Wall Street, big corporations and wealthy individuals, and began to operate under the delusion that a coalition of well-off coastal liberals and urban people of color could swing national elections – which clearly isn't always true. They took union support for granted, not realizing that the rank-and-file don't necessarily vote with the leaders.
"We need to reach out and build personal and political ties with those Trump voters who aren't committed haters, but whose economic woes and worries we can empathize with. Our first UU principle about the inherent worth and dignity of every person is hardest to put into practice with people we have profound disagreements with.″
Many Democratic leaders also fell into the cultural classism that some of us coastal liberals fall into, of regarding the Midwest as a flyover zone full of gun owners or Christian fundamentalists who are too stupid to have a reasoned political conversation with. It's important to remember that Donald Trump won the majority of votes from college-educated and high-income whites as well, so we need to be on the alert for classist demonizing of white working class people. This is a white right-wing populist uprising that cuts across classes.
Those of us who didn't see this coming need to ask ourselves whose voices we hear on a regular basis, why more of the voices of the disaffected rural and Rust Belt white people weren't on our radio programs, in our newspapers, on our Facebook feeds – and in our personal circles. We didn't hear them.
We need to stop huddling in our liberal echo chamber talking about how "they" got it wrong and we are right about everything.
Reach Out, Build Ties of Solidarity
"It will take a mass progressive movement to turn our country in a healthier direction."
Instead we need to reach out and build ties of solidarity, both personally and politically: ties with people already being targeted by street harassment from emboldened bullies who are spray-painting racist slurs and yanking off head scarves; ties with those likely to be politically targeted for deportation and stripped of union rights, health coverage, abortion rights, religious freedom and affirmative action.
But we also need to reach out and build personal and political ties with those Trump voters who aren't committed haters, but whose economic woes and worries we can empathize with. Our first UU principle about the inherent worth and dignity of every person is hardest to put into practice with people we have profound disagreements with. We may need to put aside disagreements over gun ownership and find common ground in preventing Wall Street and multinational corporations from taking over our democracy and our economy.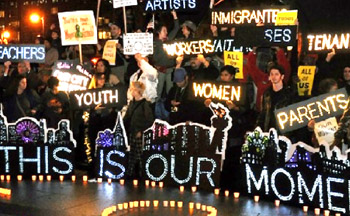 It will take a mass progressive movement to turn our country in a healthier direction. Only a multiracial and cross-class mass movement can limit how much damage the Republican Senate, House and President can do in these coming years. A mass movement could light a fire under the Democratic Party to nominate progressive populists like Bernie Sanders and Senator Elizabeth Warren.
We need a responsive party that is loudly pro-labor, that pushes for full employment policy, that will be firmly anti-sexist and anti-racist, that will tell the truth about how crucial immigrants are to economic growth, and that will treat income inequality as a national crisis. The movement and the party I'm imagining would put forward a progressive populist message that will make sense to economically struggling people of all races and regions.
It's too early know what effective resistance will be organized to stop the rightward lurch of our country, but when it happens, when you get invitations to join organizations, to boycott, to go to protests and to speak up, please say yes. All of us will need to say yes, say yes, and say yes again.
---
Betsy Leondar-Wright spoke these words on a panel about race, class and gender in the presidential election, at First Parish UU Church of Arlington, MA on November 13. She is on the board of Class Action (www.classism.org) and on the steering committee of UU Class Conversations (www.uuclassconversations.org ).